Winscribe Enterprise Solutions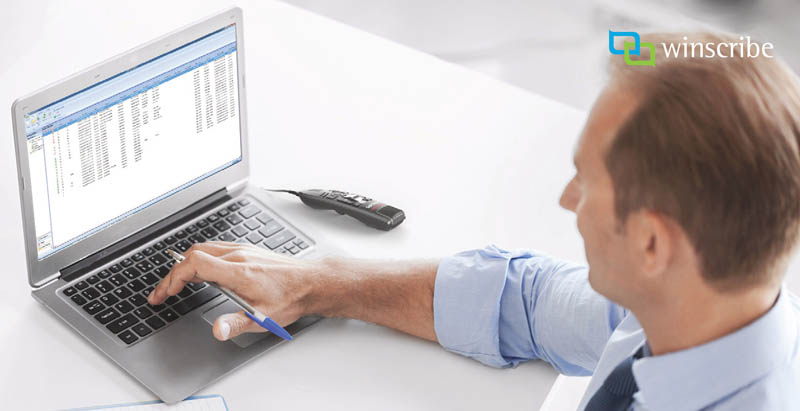 Tekton Systems and Winscribe enterprise solutions
Tekton offers a consultative sales approach to provide an optimal enterprise solution. We are not pushing any one product but listen to your needs, then design a solution around those needs. We partner with you to help streamline your documentation workflow, and that could be something as simple as replacing recorder units or moving your document production to another location. Today there are many pressures on law firms, medical practices, and public safety departments to operate more efficiently, address clients quickly, and do more with less. Whatever the case, Winscribe Dictation can improve the process.
Winscribe's speech productivity solutions enable users to organize their time more efficiently and to work in more flexible and productive ways. Winscribe Dictation is an enterprise digital dictation software system developed for businesses that are looking to streamline their dictation and transcription workflow processes.
Key new features available with Winscribe Dictation v4.2.5 include:
Increased Author permission options that enable access to jobs created by other Authors
The option for system Typists to filter Author and departmental notifications
A new button on the Client Playbar that allows Typists to quickly display speech recognized jobs
The ability to integrate with Dragon Professional v14 Group, Dragon Professional v14 Legal Group and Dragon DMPE v3.2 speech recognition software
Enhanced configuration options for the newly released for Grundig Digta SonicMic III, Philips SpeechMike 3700 and Philips SpeechMike 3800 dictation recording devices
Compatibility with Microsoft Windows 10, Windows Server 2014, SQL Server 2014, SQL Server 2016 and Microsoft Office 2016
Support for Citrix XenApp 6.5 and Citrix Receiver 13, Citrix XenApp 6.5 and Citrix Receiver 4.4, Citrix XenApp 7.6 and Citrix Receiver 4.3, and Citrix XenApp 7.6 and Citrix Receiver 4.4
A new series of options around the speech recognition workflow process:

The ability for system Authors to edit speech recognition registry options for their computer
Ability to autostart Dragon for faster loading time
Always use the local speech recognition profile depending on workplace configuration
Multiple choices to display the speech recognition complete or sign and complete buttons

Support for the Philips SpeechAir devices:

Slide-switch and touch screen activated Android app
Supports all Winscribe app and server features
Microphone is optimized for speech recognition recording
Camera and barcode support
Wireless, Bluetooth and USB connectivity
Create dictations effortlessly, wherever you are, whichever device you prefer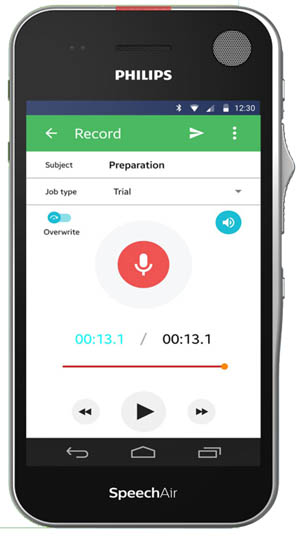 Winscribe dictation supports over 100 dictation devices from leading manufacturers such as Philips, Grundig, Olympus and Sony. This means your dedicated dictation equipment investment will be supported in the future.
Specialized mobile apps for Android™, iPhone™ and BlackBerry™ allow you and your staff to create dictations effortlessly, send them instantaneously for transcription and review completed documents on your smartphone, all while on the move. Each mobile app leverages the power of the operating platform and features powerful functionality coupled with an intuitive user interface.
No matter which device you prefer, Winscribe Dictation allows you to create, annotate and send a dictation job with just a few clicks. Speech Recognition is available with any device combination Winscribe Dictation Automation explained.