Call Tekton Today at 800-888-1778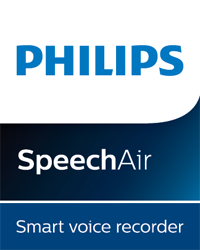 Touch the future of dictation
The SpeechAir smart voice recorder saves you time and resources by allowing you to work more flexibly than ever before. Whether you are a doctor or a lawyer, the Philips SpeechAir helps you make the most out of your valuable time. The integrated Wi-Fi function and three dedicated microphones let you record and share your files from anywhere and anytime. The Philips SpeechAir fits perfectly into your daily workflow. Record your voice from your office or on the road and securely send it off for transcription.
SpeechAir highlights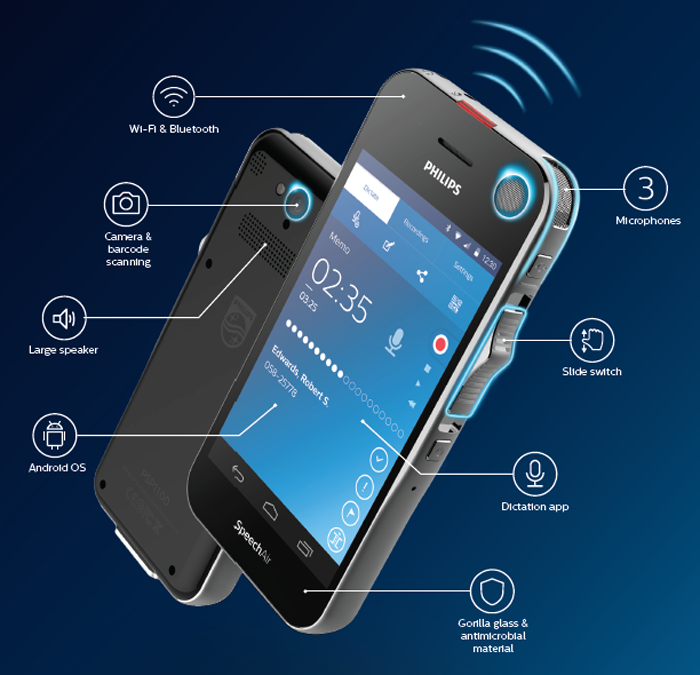 Ultimate recording quality
Three professional microphones deliver ultimate sound quality in any recording situation. the 360 degree microphone is ideal for recording dictations and meetings. For noisy environments, such as when dictating on a train, in a shared office or hospital corridor, the directional microphone is best suited. It filters out background noise and records your voice perfectly for excellent playback as well as speech recognition results. You can even record clear VoIP calls with a third, dedicated microphone.
Wear free slide switch
The ergonomic and wear-free slide switch is designed for efficient single-handed operation without having to look down at the device. It allows for quick and easy file operation (play, pause, stop, fast forward, fast rewind). A customizable function key above the slider gives quick access to the app.
Wi-Fi, LAN, USB and Bluetooth
Save time by transferring your finished recordings wirelessly to your transcription staff and directly accessing your HIS. No need to wait until you are back in your office to transfer your recordings. Client or patient lists can easily be played onto the device, so dictations can always be assigned to the correct file or patient.
Camera and barcode scanner
Attach photos to your recordings – The camera allows you to conveniently attach supporting photos to your dictations. When inspecting insurance claims or real estate for instance, you no longer need to carry an additional camera along with you. All your documents can be sent off immediately, no need to wait until you are back in the office. The SpeechAir camera also comes with an integrated barcode scanner. This enables you to instantly link client or patient data to a recording just by scanning a QR- or barcode.
Instant file transfer and quick charging
The included superior docking station automatically transfers all your recordings to your computer and quickly re-charges your device. The LAN connection allows you to transfer your files directly from the station without having to use a computer. The dock comes with a Kensington lock. This antitheft system guarantees a peace of mind when leaving the dock unattended in an office or operating room.