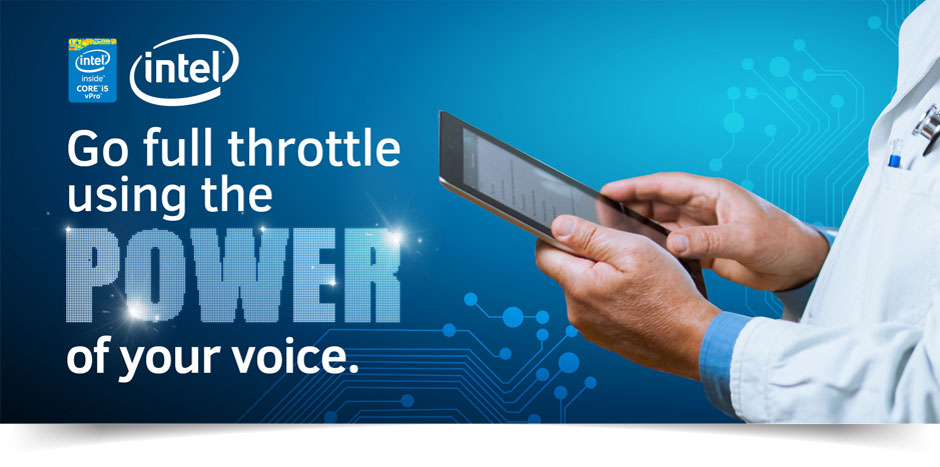 With the complete Dragon® Medical software and Intel® Mobile solution you are no longer anchored to the computer in your office to use speech recognition to complete your patient documentation.

Secure connection with 5th Generation Intel® Core™ vPro™ processors with Intel® Identity Protection Technology to assist with HIPAA compliance

Easy to carry and use format of a tablet
compared to a laptop

Utilize touch and speech to increase the
speed of documentation

Intel® Wireless Docking allows convenient and quick docking –it automatically connects to your monitor, keyboard, or USB accessories, no cables required
"Dragon Medical Practice Edition 2 affords me the ability to be more efficient and to be a more effective physician.
As I move from my office, to the exam room, or to the operating room, I depend on the power and portability of Dragon Medical to help me "dictate-on-the go" so that I can document my patient encounters while using my voice to drive my EHR experience. Ultimately, I believe that Dragon Medical Practice Edition 2 truly allows me to be a mobile physician since my computer's small-footprint does not mean that I have to compromise on functionality; what I say is what I see on the screen and that is what I submit! It is just that easy!"
Dr. Brian Levine
Obstetrician / Gynecologist (OB/GYN)



Software and workloads used in performance tests may have been optimized for performance only on Intel microprocessors. Performance tests, such as SYSmark* and MobileMark*, are measured using specific computer systems,
components, software, operations and functions. Any change to any of those factors may cause the results to vary. You should consult other information and performance tests to assist you in fully evaluating your contemplated purchases, including the performance of that product when combined with other products. For more complete information, go to www.intel.com/performance
Intel® technologies may require enabled hardware, specific software, or services activation. Performance varies depending on system configuration. No computer system can be absolutely secure. Check with your system manufacturer or retailer or learn more at www.intel.com.
Copyright © 2015 Intel Corporation. All rights reserved. Intel, the Intel logo, Intel Core, Intel Inside, the Intel Inside logo, and Intel vPro, are trademarks of Intel Corporation in the U.S. and/or other countries. *Other names and brands may be claimed as the property of others.