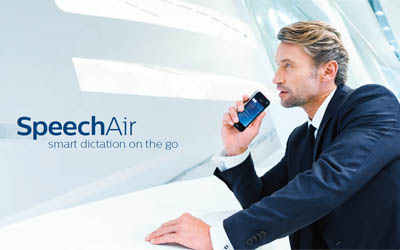 Philips SpeechAir
is a smart voice recorder that saves time and resources by allowing you to work more flexibly than ever before. With it, you can record your voice from your office, on the road, or anywhere and securely send it off for transcription. Integrated Wi-Fi and three dedicated microphones let you record and share your files from anywhere and anytime. Here are some of the great features:
Ultimate Recording Quality: Three microphones deliver ultimate sound quality in any recording situation. use the 360 degree microphone for dictations and meetings; the directional microphone for noisy environments like shared offices; use the third microphone for VoIP calls.
Wear Free Slide Switch: The ergonomic and slide switch enables efficient single-handed operation and allows for quick and easy file operation (play, pause, stop, fast forward, fast rewind).
Maximum File Security: Recordings are encrypted using the 256-bit Advanced Encryption Standard (AES) and a PIN code protects the device against unauthorized use.
WI-FI, LAN, USB AND BLUETOOTH: SpeechAir connects easily to various networks and HIS. No need to be in the office to transfer recordings.
Camera and Barcode Scanner: Conveniently attach supporting photos to dictations, with no need for an additional camera. The camera also includes an integrated barcode scanner, which enables you to instantly link client or patient data to a recording just by scanning a QR code or barcode.
Instant File Transfer and Quick Charging: The included docking station automatically transfers recordings to your computer and quickly re-charges the device. The LAN connection allows you to transfer your files directly from the station without having to use a computer. The dock comes with a Kensington lock anti-theft system .
This new dictation tool is ideal for professionals in law, medicine, sales, insurance, real estate, and more. It enables attorneys, law firms, physicians, and other organizations spend more time billing clients and less time performing administrative tasks. For more information, or to schedule a demo,
CLICK HERE
**
Tekton
is the go-to source for equipment, software, and expert consulting for speech processing, voice recognition, and transcription. Tekton offers the latest portable and integrated digital / mobile dictation products from
Winscribe
,
Philips
,
Dragon
, and
Olympus
. These tools enable increases in productivity for many organizations.
Tekton
serves the Mid-Atlantic and Southeast regions of the U.S. with offices in Chapel Hill NC, Pittsburgh PA, Richmond VA, and Columbia SC. Including the states of Delaware, District of Columbia (DC), Maryland, New Jersey, North Carolina, Ohio, South Carolina, Virginia, West Virginia, and beyond. Also serving Raleigh, Durham, Greensboro, Charlotte, Washington DC, Baltimore, Philadelphia.