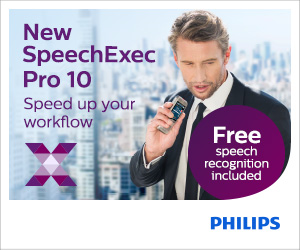 SpeechExec Pro dictation and speech recognition software
links authors and typists, facilitating communication, the setup of individual workflow settings and organizational flexibility. Both sides can work more efficiently and get more done in less time. The solution includes an integrated version of Nuance Professional speech recognition software, for extremely accurate results. The software automatically routes your dictations to your desired transcription option, including SpeechLive. SpeechExec Pro is the perfect companion to the SpeechMike Premium dictation microphone.
Efficient document creation
Workflow management and automation for enhanced productivity
Worklists for easy work monitoring and tracking
Encryption and backup functions for highest security
SpeechLive connection available for even greater mobility
Professional dictation solution
Recorder for convenient direct dictation with Philips dictation microphones
Automated file download for quick and convenient job routing
Powerful transcription module
Player for comfortable and quick transcription using Philips foot control
Individual sort and filter options for organization and task prioritization
Notification popup windows alert transcriptionists of new incoming tasks
Integrated speech recognition
Integrated professional speech recognition for extremely accurate transcriptions
Add your custom vocabulary to increase recognition accuracy
Support for real-time, on-screen speech recognition and transcription of pre- recorded audio files
Philips SpeechExec Pro helps you save time and resources with automatic routing of recordings and written documents, helps you receive written documents quicker than ever before, and provides highly secure state of the art file encryption. For more information, or to schedule a demo,
CLICK HERE
**
Tekton
is the go-to source for equipment, software, and expert consulting for speech processing, voice recognition, and transcription. Tekton offers the latest portable and integrated digital / mobile dictation products from
Winscribe
,
Philips
,
Dragon
, and
Olympus
. These tools enable increases in productivity for many organizations.
Tekton
serves the Mid-Atlantic and Southeast regions of the U.S. with offices in Chapel Hill NC, Pittsburgh PA, Richmond VA, and Columbia SC. Including the states of Delaware, District of Columbia (DC), Maryland, New Jersey, North Carolina, Ohio, South Carolina, Virginia, West Virginia, and beyond. Also serving Raleigh, Durham, Greensboro, Charlotte, Washington DC, Baltimore, Philadelphia.