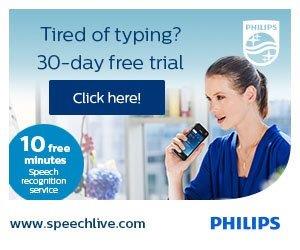 Philips SpeechLive
now offers a full suite of cloud-based dictation and transcription services that turn dictation recordings into text, optimizing and streamlining professionals' workflow efficiency with voice technology.
With the new speech recognition feature, users can have
files transcribed almost immediately
after sending them through the speech recognition engine. Philips SpeechLive is compatible with
any Philips voice recorder
or the Philips dictation recorder
smartphone app
. Additional updates to the newest version include:
Language diversity: The speech recognition service is available in 21 languages and can be purchased with a minimum of 10 minute increments.
Automated forwarding rules: This feature allows users to have multiple authors, so they can automatically transfer files to each other and to transcriptionists for a smooth workflow.
Online transcription: SpeechLive also supports online transcription. Users can play dictations directly in their web browser by connecting a foot pedal to their PC to start transcribing.
Workflow configuration: SpeechLive can now support up to 50 users per account, ensuring optimal use organization-wide.
Philips SpeechLive is a subscription-based cloud voice technology solution that safely, securely and efficiently manages and stores dictation and transcription files for users. SpeechLive users can have confidence their files are stored and transferred safely and securely with a backup option and double encryption for all accounts.
This new voice recognition tool is ideal for professionals in law, medicine, sales, insurance, authors, public speakers, and more. It enables attorneys, law firms, physicians, and other organizations spend more time billing clients and less time performing administrative tasks.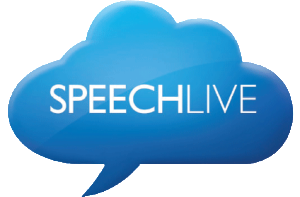 For more information, or to schedule a demo,
CLICK HERE
**
Tekton
is the go-to source for equipment, software, and expert consulting for speech processing, voice recognition, and transcription. Tekton offers the latest portable and integrated digital / mobile dictation products from
Winscribe
,
Philips
,
Dragon
, and
Olympus
. These tools enable increases in productivity for many organizations.
Tekton
serves the Mid-Atlantic and Southeast regions of the U.S. with offices in Chapel Hill NC, Pittsburgh PA, Richmond VA, and Columbia SC. Including the states of Delaware, District of Columbia (DC), Maryland, New Jersey, North Carolina, Ohio, South Carolina, Virginia, West Virginia, and beyond. Also serving Raleigh, Durham, Greensboro, Charlotte, Washington DC, Baltimore, Philadelphia.