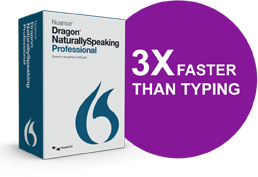 Lets' face it – as a first responder, your time is valuable. Using Dragon® NaturallySpeaking® Professional for Public Safety, you can spend more time protecting the community and less time completing reports.
Reduce time spent on paperwork with Dragon Speech Recognition Solutions
A first responder's priority is public safety, but increasing paperwork demands often keep them chained to a desk rather than in the field. With Dragon speech recognition solutions however, time spent completing booking and primary incident reports, doing interviews, sending emails, and filling out forms can be dramatically reduced – putting your team back on the street, where they're needed most.
Benefits
Create documents quickly and efficiently
Accelerate data entry within CAD/RMS systems
Automate tasks through voice commands
Increase safety during patrol
Improve immediacy and accuracy of reports
Tekton can help you get the most from your investment
Because we specialize in maximizing the benefits of Dragon, we offer a broad spectrum of support and services delivered by qualified IT professionals. From customization to deployment to ongoing support, we'll ensure your organization gets the most from Dragon. You can count on us to provide you with everything you need to succeed and keep your organization moving quickly and focused on what they do best – more time achieving their mission and less time with paperwork.
To learn more about Dragon speech recognition solutions and how it can help your department get more done in less time, contact Tekton today.
**
Tekton
is the go-to source for equipment, software, and expert consulting for speech processing, voice recognition, and transcription. Tekton offers the latest portable and integrated digital / mobile dictation products from
Winscribe
,
Philips
,
Dragon
, and
Olympus
. These tools enable increases in productivity for many organizations.
Tekton
serves the Mid-Atlantic and Southeast regions of the U.S. with offices in Chapel Hill NC, Pittsburgh PA, Richmond VA, and Columbia SC. Including the states of Delaware, District of Columbia (DC), Maryland, New Jersey, North Carolina, Ohio, South Carolina, Virginia, West Virginia, and beyond. Also serving Raleigh, Durham, Greensboro, Charlotte, Washington DC, Baltimore, Philadelphia.