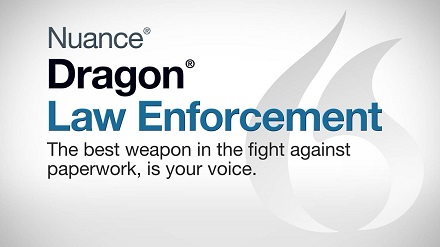 Dragon Law Enforcement Solution
is designed to allow patrol officers, agents and other law enforcement officials to use speech recognition technology, in the field, to log detailed reports, and perform essential functions, enabling them to be visible, safe and productive. Officers can keep their heads up and eyes on the road, while they use Dragon's fast, accurate dictation with robust customization, improving their in-car documentation productivity. Here are some of the benefits of Dragon Law Enforcement:
Increased officer safety and community visibility through more efficient reporting, keeping you in the field to protect and serve
Incident reporting into Records Management Systems (RMS) by voice to enable reports to be done hands-free and faster than typing
License plate look-up by voice with immediate text-to-speech results to reduce distracted driving by allowing your eyes to stay on the road
Driving officer productivity through custom vocabularies and commands with increased dictation accuracy
This new Dragon speech recognition and dictation solution enables law enforcement personnel to dictate incident reports and other documents quickly and accurately—all by voice—and make the process of reporting faster, safer and more efficient. Reducing inefficiencies can result in more time spent protecting and serving. For more information, or to schedule a demo,
CLICK HERE
**
Tekton
is the go-to source for equipment, software, and expert consulting for speech processing, voice recognition, and transcription. Tekton offers the latest portable and integrated digital / mobile dictation products from
Winscribe
,
Philips
,
Dragon
, and
Olympus
. These tools enable increases in productivity for many organizations.
Tekton
serves the Mid-Atlantic and Southeast regions of the U.S. with offices in Chapel Hill NC, Pittsburgh PA, Richmond VA, and Columbia SC. Including the states of Delaware, District of Columbia (DC), Maryland, New Jersey, North Carolina, Ohio, South Carolina, Virginia, West Virginia, and beyond. Also serving Raleigh, Durham, Greensboro, Charlotte, Washington DC, Baltimore, Philadelphia.